Posts tagged
Taio Cruz
0

For any of our Canadian viewers who are in University it is finally READING WEEK for us. Some of you might be flying off to a nice warm location or others (like myself) will be stuck at home reading… Therefore I thought it would be right to post some new mash-ups for everyone to listen to over this one week of heaven on earth.
Enjoy!
Fuck You" – Cee-Lo vs Cyndi Lauper
Fuck You (Jason Smith Remix) by iamjasonsmith
Sprawl Of Glass (Blondie vs. Arcade Fire) – The Hood Internet
The Hood Internet – Sprawl Of Glass (Arcade Fire x Blondie) by hoodinternet
Stereo Dynamite (Taio Cruz Vs. Edward Maya) – Mash-Up Germany
Mashup-Germany – Stereo Dynamite by MashupGermany
Heart Shaped Tron – Daft Punk Vs. Nirvana
Audio clip: Adobe Flash Player (version 9 or above) is required to play this audio clip. Download the latest version here. You also need to have JavaScript enabled in your browser.
- Constance
1
Once again, DJ Earworm is back again with his annual Mashups of Billboard's Top 25 songs of the year. I have huge respect for DJ's/Producers such as Earworm because mastering and mixing these tracks into one is not a simple task. I'm just glad that he is getting the attention from music listeners across the world since his 2009 release.
United State of Pop 2010 (Don't Stop the Pop) – DJ Earworm
Tracklist:
Ke$ha – Tik Tok
Lady Antebellum – Need You Now
Train – Hey, Soul Sister
Katy Perry Featuring Snoop Dogg – California Gurls
Usher Featuring will.i.am – OMG
B.O.B. Featuring Hayley Williams – Airplanes
Eminem Featuring Rihanna – Love the Way You Lie
Lady Gaga – Bad Romance
Taio Cruz – Dynamite
Taio Cruz Featuring Ludacris – Break Your Heart
B.O.B. Featuring Bruno Mars – Nothin' On You
Enrique Iglesias Featuring Pitbull – I Like It
Young Money Featuring Lloyd – Bedrock
Jason Derulo – In My Head
Rihanna – Rude Boy
Lady Gaga Featuring Beyonce – Telephone
Katy Perry – Teenage Dream
Bruno Mars – Just the Way You Are
Mike Posner – Cooler Than Me
The Black Eyed Peas – Imma Be
Jay-Z + Alicia Keys – Empire State of Mind
Usher Featuring Pitbull – DJ Got Us Fallin' In Love
Travie McCoy Featuring Bruno Mars – Billionaire
Eminem – Not Afraid
Iyaz – Replay
1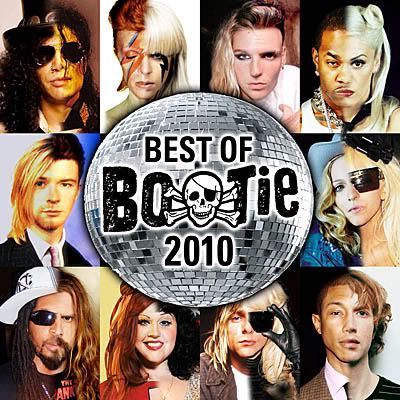 2010 is coming to an end, therefore blogs and websites everywhere are making their "Best of 2010″ list. One of favourites is Bootie's Best of Bootie 2010 compiled and mixed by A Plus D. You can check out 2009′s Best of Bootie here.
Download: Whole Album
Audio clip: Adobe Flash Player (version 9 or above) is required to play this audio clip. Download the latest version here. You also need to have JavaScript enabled in your browser.
2. The Face Melters – Ice Ice Tik Tok (Ke$ha vs. Vanilla Ice)
Audio clip: Adobe Flash Player (version 9 or above) is required to play this audio clip. Download the latest version here. You also need to have JavaScript enabled in your browser.
3. DJ Tripp – Dynamite Pressure (Taio Cruz vs. Queen & David Bowie)
Audio clip: Adobe Flash Player (version 9 or above) is required to play this audio clip. Download the latest version here. You also need to have JavaScript enabled in your browser.
4. DJ BC – Could You Be Love Gamed (Lady Gaga vs. Bob Marley)
Audio clip: Adobe Flash Player (version 9 or above) is required to play this audio clip. Download the latest version here. You also need to have JavaScript enabled in your browser.
5. DJ Lobsterdust – Knock Out Eileen (LL Cool J vs. Dexy's Midnight Runners)
Audio clip: Adobe Flash Player (version 9 or above) is required to play this audio clip. Download the latest version here. You also need to have JavaScript enabled in your browser.
6. Rad Bad – Moving Da Royalty (Will Smith vs. Daft Punk)
Audio clip: Adobe Flash Player (version 9 or above) is required to play this audio clip. Download the latest version here. You also need to have JavaScript enabled in your browser.
7. Mashup-Germany vs. Faroff – Everybody & Ray Speaks No Americano (Yolanda Be Cool & DCUP vs. Backstreet Boys vs. Ray Charles vs. Benny Benassi)
Audio clip: Adobe Flash Player (version 9 or above) is required to play this audio clip. Download the latest version here. You also need to have JavaScript enabled in your browser.
8. Titus Jones – I Wanna Bulletproof Dancer (La Roux vs. Robyn vs. Whitney Houston vs. Taylor Swift)
Audio clip: Adobe Flash Player (version 9 or above) is required to play this audio clip. Download the latest version here. You also need to have JavaScript enabled in your browser.
9. DJ Tripp – Papa Was A Ghost (The Temptations vs. Deadmau5)
Audio clip: Adobe Flash Player (version 9 or above) is required to play this audio clip. Download the latest version here. You also need to have JavaScript enabled in your browser.
10. DJ Schmolli – Big Booty Bitches In Miami (Bombs Away vs. LMFAO vs. Busta Rhymes vs. Sir Mix-A-Lot)
Audio clip: Adobe Flash Player (version 9 or above) is required to play this audio clip. Download the latest version here. You also need to have JavaScript enabled in your browser.
11. DJs From Mars – Enter Telephone (Lady Gaga vs. Metallica)
Audio clip: Adobe Flash Player (version 9 or above) is required to play this audio clip. Download the latest version here. You also need to have JavaScript enabled in your browser.
12. DJs From Mars – Teenage Gay (Katy Perry vs. O.M.D.)
Audio clip: Adobe Flash Player (version 9 or above) is required to play this audio clip. Download the latest version here. You also need to have JavaScript enabled in your browser.
13. Marc Johnce vs. Party Ben – Flex Gym Beat Sauce (Duck Sauce vs. Dizzee Rascal vs. Ray Krebbs vs. Michael Jackson)
Audio clip: Adobe Flash Player (version 9 or above) is required to play this audio clip. Download the latest version here. You also need to have JavaScript enabled in your browser.
14. DJs From Mars – California Jump (Katy Perry vs. Van Halen)
Audio clip: Adobe Flash Player (version 9 or above) is required to play this audio clip. Download the latest version here. You also need to have JavaScript enabled in your browser.
15. The Kleptones – Jump You Fucker (Cee Lo Green vs. Van Halen)
Audio clip: Adobe Flash Player (version 9 or above) is required to play this audio clip. Download the latest version here. You also need to have JavaScript enabled in your browser.
16. DJ Le Clown vs. Ludachrist – Pon De Billie Foley (Major Lazer vs. Michael Jackson vs. Harold Faltermeyer)
Audio clip: Adobe Flash Player (version 9 or above) is required to play this audio clip. Download the latest version here. You also need to have JavaScript enabled in your browser.
17. The MashMaticians – Will A G6 Roll (Far East Movement ft. Dev & The Cataracs vs. Yeah Yeah Yeahs vs. A-Trak)
Audio clip: Adobe Flash Player (version 9 or above) is required to play this audio clip. Download the latest version here. You also need to have JavaScript enabled in your browser.
18. DJ Fox – Club Can't Use Somebody (Kings of Leon vs. Flo Rida ft. David Guetta)
Audio clip: Adobe Flash Player (version 9 or above) is required to play this audio clip. Download the latest version here. You also need to have JavaScript enabled in your browser.
19. DJ Topcat – Folsom Prison Gangstaz (Eazy-E vs. Johnny Cash)
Audio clip: Adobe Flash Player (version 9 or above) is required to play this audio clip. Download the latest version here. You also need to have JavaScript enabled in your browser.
20. Go Home Productions – Smells Like Rockin' Robin (Nirvana vs. Jackson 5)
Audio clip: Adobe Flash Player (version 9 or above) is required to play this audio clip. Download the latest version here. You also need to have JavaScript enabled in your browser.
21. DJ Tripp – Run This Firefly (Jay-Z ft. Rihanna & Kanye West vs. Owl City)
Audio clip: Adobe Flash Player (version 9 or above) is required to play this audio clip. Download the latest version here. You also need to have JavaScript enabled in your browser.
22. LeeDM101 – (Find Myself) A Heap Of Love (Florence & the Machine vs. Depeche Mode vs. Imogen Heap)
Audio clip: Adobe Flash Player (version 9 or above) is required to play this audio clip. Download the latest version here. You also need to have JavaScript enabled in your browser.
23. Mighty Mike – Imagine A Jump (Van Halen vs. John Lennon)
Audio clip: Adobe Flash Player (version 9 or above) is required to play this audio clip. Download the latest version here. You also need to have JavaScript enabled in your browser.
- Constance