Posts tagged
Remixes
1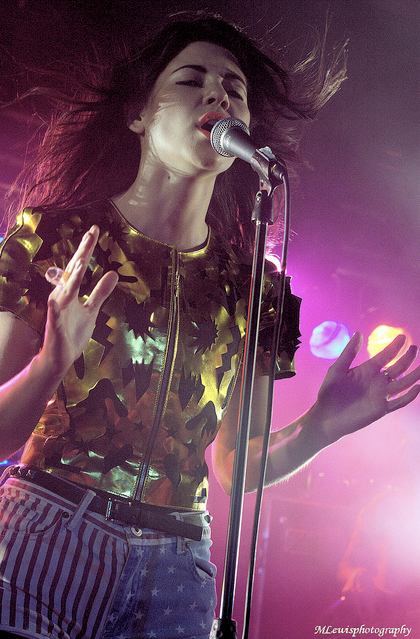 Marina and the Diamonds is an indie pop band fronted by Welsh singer Marina Diamandis. Formed in 2007, Marina's debut album, The Family Jewels, has received various praises from publications such as BBC Music and NME. Marina describes her image as "vintage, cheerleader, and cartoon", and draws inspiration from a range of artists, including PJ Harvey and Dolly Parton.

"I fucking love you, Marina!"
They're the first coherent words shouted from the crowd as Marina graces the stage at around half past nine in Toronto's Opera House. While the crowd cheers away, the overly enthusiastic fan is only a few feet from my right, writhing in what appears to be orgiastic bliss. His girlfriend stands behind him, slightly embarrassed. The object of his obsession, decked in bright Ray-Bans, and black pajamas scattered with florescent pink hearts, smiles demurely and giggles from the stage.
This description pretty much sets the mood for the entirety of the concert. Marina, from the very start, is the centre of the crowd's attention. While some of it may have to do with the solemnity that's often apparent as she belts out her tunes (not unlike Lady Gaga's deep and utter respect for the undying art that is pop), it is her sweet and playful persona that easily makes her an audience darling. Using props (including two glowing florescent hearts during her performance of I Am Not A Robot) and her own infectious enthusiasm, Marina very clearly tries to make up for an economic but basic stage set-up.
However lacking the aesthetic aspect of the show, the music is in top form. As an avid listener to the debut album, it's kind of eerie how very studio the music sounds. Kicking off with The Outsider, the rest of the show revels in the same pop-alternative genre reminiscent of other British exports such as Mika and Lily Allen, with a foundation in a definitive eighties synth. Marina's own warbling vocals sounds like it's straight off the CD, delighting us fans with a piano rendition of Obsessions in her familiar style. In an escape for the normally hectic beat of her songs, Marina slowed down the last song of 3OH!3's Starstrukk, making the chorus sound even more ridiculous as it does in its' regular tempo. Though Marina and her band mates leave the stage, not two minutes later they return, for their, in my opinion, most sought after single, Mowgli's Road. The crowd goes wild.
Though scarcity on stage values is a reality for all fledgling bands, there's enough energy from the lead singer to forget the need for theatrics. Though always great on the IPod, Marina's tunes are made to be played in a hall with eager fans and endless fervor.
The guy to my right would agree.
- Steph Lauren
Download:
Oh No! – Marina and the Diamonds (GRUM Remix) [MP3]:
Audio clip: Adobe Flash Player (version 9 or above) is required to play this audio clip. Download the latest version here. You also need to have JavaScript enabled in your browser.
Shampain – Marina and the Diamonds [MP3]:
Audio clip: Adobe Flash Player (version 9 or above) is required to play this audio clip. Download the latest version here. You also need to have JavaScript enabled in your browser.