Posts tagged
Imogen Heap
0
I cannot believe that this is the last Remix Fridays post of 2011. So many great remixes out there this year, and I'm happy to end this year's last RF post with a single remixed by Gosteffects and Rule of Eight. It's already been ahuge hit online, so when I got sent this I had to make sure to end this year with the right track. Enjoy your last Friday of 2011.
Imogen Heap – Just for Now (Gosteffects & Rule of Eight "I'm God" Remix) by Gosteffects
– Constance
1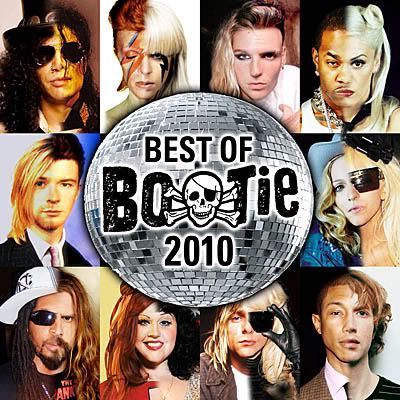 2010 is coming to an end, therefore blogs and websites everywhere are making their "Best of 2010" list. One of favourites is Bootie's Best of Bootie 2010 compiled and mixed by A Plus D. You can check out 2009's Best of Bootie here.
Download: Whole Album
Audio clip: Adobe Flash Player (version 9 or above) is required to play this audio clip. Download the latest version here. You also need to have JavaScript enabled in your browser.
2. The Face Melters – Ice Ice Tik Tok (Ke$ha vs. Vanilla Ice)
Audio clip: Adobe Flash Player (version 9 or above) is required to play this audio clip. Download the latest version here. You also need to have JavaScript enabled in your browser.
3. DJ Tripp – Dynamite Pressure (Taio Cruz vs. Queen & David Bowie)
Audio clip: Adobe Flash Player (version 9 or above) is required to play this audio clip. Download the latest version here. You also need to have JavaScript enabled in your browser.
4. DJ BC – Could You Be Love Gamed (Lady Gaga vs. Bob Marley)
Audio clip: Adobe Flash Player (version 9 or above) is required to play this audio clip. Download the latest version here. You also need to have JavaScript enabled in your browser.
5. DJ Lobsterdust – Knock Out Eileen (LL Cool J vs. Dexy's Midnight Runners)
Audio clip: Adobe Flash Player (version 9 or above) is required to play this audio clip. Download the latest version here. You also need to have JavaScript enabled in your browser.
6. Rad Bad – Moving Da Royalty (Will Smith vs. Daft Punk)
Audio clip: Adobe Flash Player (version 9 or above) is required to play this audio clip. Download the latest version here. You also need to have JavaScript enabled in your browser.
7. Mashup-Germany vs. Faroff – Everybody & Ray Speaks No Americano (Yolanda Be Cool & DCUP vs. Backstreet Boys vs. Ray Charles vs. Benny Benassi)
Audio clip: Adobe Flash Player (version 9 or above) is required to play this audio clip. Download the latest version here. You also need to have JavaScript enabled in your browser.
8. Titus Jones – I Wanna Bulletproof Dancer (La Roux vs. Robyn vs. Whitney Houston vs. Taylor Swift)
Audio clip: Adobe Flash Player (version 9 or above) is required to play this audio clip. Download the latest version here. You also need to have JavaScript enabled in your browser.
9. DJ Tripp – Papa Was A Ghost (The Temptations vs. Deadmau5)
Audio clip: Adobe Flash Player (version 9 or above) is required to play this audio clip. Download the latest version here. You also need to have JavaScript enabled in your browser.
10. DJ Schmolli – Big Booty Bitches In Miami (Bombs Away vs. LMFAO vs. Busta Rhymes vs. Sir Mix-A-Lot)
Audio clip: Adobe Flash Player (version 9 or above) is required to play this audio clip. Download the latest version here. You also need to have JavaScript enabled in your browser.
11. DJs From Mars – Enter Telephone (Lady Gaga vs. Metallica)
Audio clip: Adobe Flash Player (version 9 or above) is required to play this audio clip. Download the latest version here. You also need to have JavaScript enabled in your browser.
12. DJs From Mars – Teenage Gay (Katy Perry vs. O.M.D.)
Audio clip: Adobe Flash Player (version 9 or above) is required to play this audio clip. Download the latest version here. You also need to have JavaScript enabled in your browser.
13. Marc Johnce vs. Party Ben – Flex Gym Beat Sauce (Duck Sauce vs. Dizzee Rascal vs. Ray Krebbs vs. Michael Jackson)
Audio clip: Adobe Flash Player (version 9 or above) is required to play this audio clip. Download the latest version here. You also need to have JavaScript enabled in your browser.
14. DJs From Mars – California Jump (Katy Perry vs. Van Halen)
Audio clip: Adobe Flash Player (version 9 or above) is required to play this audio clip. Download the latest version here. You also need to have JavaScript enabled in your browser.
15. The Kleptones – Jump You Fucker (Cee Lo Green vs. Van Halen)
Audio clip: Adobe Flash Player (version 9 or above) is required to play this audio clip. Download the latest version here. You also need to have JavaScript enabled in your browser.
16. DJ Le Clown vs. Ludachrist – Pon De Billie Foley (Major Lazer vs. Michael Jackson vs. Harold Faltermeyer)
Audio clip: Adobe Flash Player (version 9 or above) is required to play this audio clip. Download the latest version here. You also need to have JavaScript enabled in your browser.
17. The MashMaticians – Will A G6 Roll (Far East Movement ft. Dev & The Cataracs vs. Yeah Yeah Yeahs vs. A-Trak)
Audio clip: Adobe Flash Player (version 9 or above) is required to play this audio clip. Download the latest version here. You also need to have JavaScript enabled in your browser.
18. DJ Fox – Club Can't Use Somebody (Kings of Leon vs. Flo Rida ft. David Guetta)
Audio clip: Adobe Flash Player (version 9 or above) is required to play this audio clip. Download the latest version here. You also need to have JavaScript enabled in your browser.
19. DJ Topcat – Folsom Prison Gangstaz (Eazy-E vs. Johnny Cash)
Audio clip: Adobe Flash Player (version 9 or above) is required to play this audio clip. Download the latest version here. You also need to have JavaScript enabled in your browser.
20. Go Home Productions – Smells Like Rockin' Robin (Nirvana vs. Jackson 5)
Audio clip: Adobe Flash Player (version 9 or above) is required to play this audio clip. Download the latest version here. You also need to have JavaScript enabled in your browser.
21. DJ Tripp – Run This Firefly (Jay-Z ft. Rihanna & Kanye West vs. Owl City)
Audio clip: Adobe Flash Player (version 9 or above) is required to play this audio clip. Download the latest version here. You also need to have JavaScript enabled in your browser.
22. LeeDM101 – (Find Myself) A Heap Of Love (Florence & the Machine vs. Depeche Mode vs. Imogen Heap)
Audio clip: Adobe Flash Player (version 9 or above) is required to play this audio clip. Download the latest version here. You also need to have JavaScript enabled in your browser.
23. Mighty Mike – Imagine A Jump (Van Halen vs. John Lennon)
Audio clip: Adobe Flash Player (version 9 or above) is required to play this audio clip. Download the latest version here. You also need to have JavaScript enabled in your browser.
– Constance